Self-Regulated Strategy Development (SRSD) at PC
SRSD Writing Instruction and Professional Learning Grant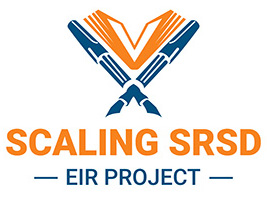 Our Scaling SRSD research project seeks Title One K-5 elementary schools needing evidence-based solutions to elevate writing instruction and boost student performance. Backed by renowned organizations that include Providence College, the American Institutes for Research, SRSD Online Partners, and the National Writing Project and with financial support from the U.S. Department of Education's Education Innovation and Research program, the Scaling SRSD team is committed to high-quality research and actionable results for your schools and district.

Why Is This Research Study Critical?
Our research is not just academic — it aims to close real-world gaps in writing instruction and achievement disparities. The substantial evidence behind SRSD's impact on writing skills and emotional regulation underscores the significance of our work. We are committed to finetuning the implementation of SRSD to minimize teacher burden, enhance the role of school-based facilitators, leverage adaptive technologies, and underscore the importance of social-emotional learning across subjects.
JOIN US!
We, the Scaling SRSD project@PC, look forward to partnering with you – educators in Title One elementary schools and districts ready to cultivate lasting writing and social emotional outcomes for your students. Space is limited. We are recruiting for the 2024-2026 cohort now! Partner with us before the end of 2023 to be ready for impactful professional learning for the 2024-2025 academic year.

For more information, contact Laura Hauerwas at srsd@providence.edu to learn more about our professional learning model and the research design and data collection and you can download our informational flyer below to learn more and share with your colleagues.
GRANT INFORMATION FLYER
SRSD AT PROVIDENCE COLLEGE
Partners
Resources
Project Director
Laura Hauerwas, Ph.D.
Project Director, Scaling SRSD, Professor of Elementary Special Education
Laura Hauerwas, Ph.D., professor of education at Providence College (R.I.) brings extensive expertise and a strong focus on evidence-based strategies to her role as the project director of the Scaling SRSD grant program. With a background in educational research and a track record of managing successful studies, she is deeply committed to providing top-notch support and guidance to participating schools. Inclusive systems perspectives and a commitment to practice-based innovation make Laura not just a researcher, but at heart an education practitioner.

She holds advanced degrees in educational research, has published extensively in respected academic journals, and is a sought-after speaker at national and international conferences on reading and writing instruction, Multi-Tiers Systems of Support and globally conscious teacher education practices. Whether it is delivering benefits to teachers and students, guiding future teachers, or steering impactful educational initiatives, Laura's credentials and dedication make her the ideal person to lead this SRSD grant project to success.
Providence College Elementary/Special Education Professor Laura Hauerwas discusses her background at PC and shares her vision for the recent $11.3 million grant from the U.S. Dept. of Education, the largest grant award in the college's history.